I'm pleased to announce that Resilience will be exhibiting in the One Red Thread 2021 Exhibition in Australia. The exhibition takes place at Jervis Bay Maritime Museum & Gallery in New South Wales, 4th December 2021 – 13th February 2022.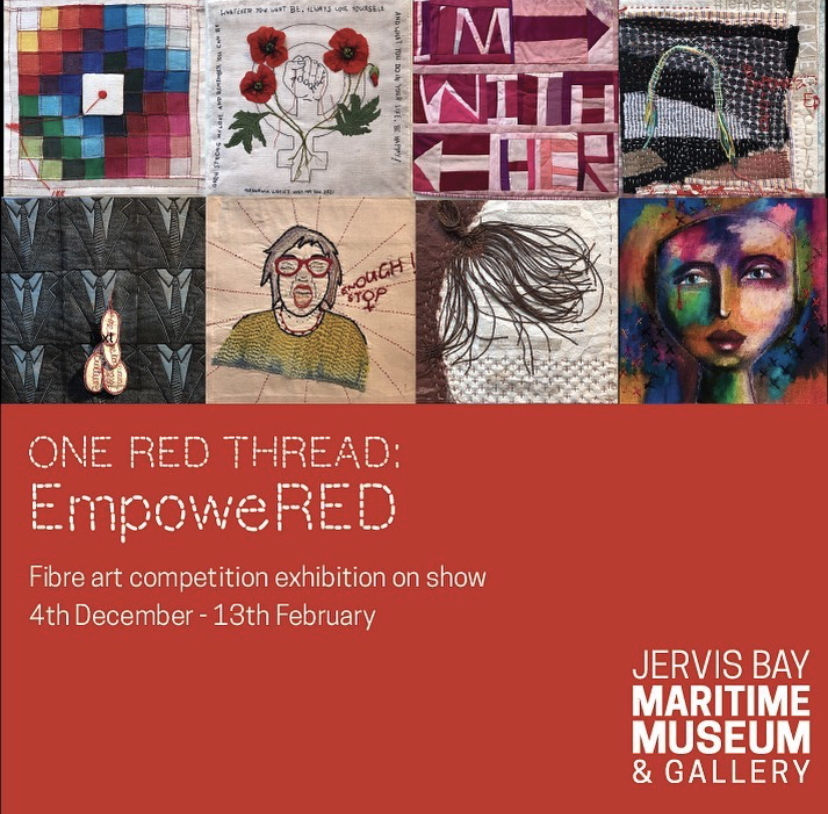 The piece shows a Lancastrian weaving shuttle in a Cotton Weavers hand.
Size 24 x 24 cm. Central panel 21 x 21 cm, hand embroidered and hand stitched with vintage Sylko thread. Hand and Shuttle: Eco-leaf printed vintage Lancashire cotton cloth. Vintage Sylko thread. Outer border: Linen, surface designed with bleach and discharge paste. Vintage Sylko thread. Designed and hand stitched in three weeks.
Elizabeth Dubbelde of Berry Quilting set the challenge for embroiderers and textile artists to create a work under the theme EmpoweRED.
'What can I do to make a stand about injustices, to raise my voice in protest? Hence "Empowered" gives us an opportunity through art textiles to raise our voices to show solidarity & support to victims of sexual assault. I urge you to raise your voice by creating a piece of work that relates to the theme of Empowered.' Elizabeth Dubbeld, One Red Thread 2021.
Resilience is part of a body of work featuring Lancashire dialect.
Update February 2022: The exhibition is on the next stage of its tour in Australia and I'll add further dates venues as the One Red Thread Exhibition tour progresses.