This new piece titled 'A Weaver's Tale' is on its way to the Stitch Your Story Exhibition curated by Jamie Chalmers aka Mr X Stitch. The artwork will be mounted into 6 inch embroidery hoops and displayed within Blackburn Cathedral 1-31st October 2021.
The story behind the about the artwork: 'A Weaver's Tale' – The tale of Mary Nixon:
Mary, a weaver and her husband Tom, an overlooker and union steward, worked in one of the many cotton mills in Blackburn.
Job security in the Lancashire Cotton Mills in the late 1890's was very precarious. Hazardous working conditions brought about the rise of unions. One fight was to add guards on the ends of the shuttle race to prevent the shuttle shooting out of the end of the loom injuring weavers.
After an accident where a weaver was hit in the face with a flying shuttle, there was a call to strike. The union stewards stepped forward and the cotton mills came out on strike insisting shuttle guards were installed. Eventually the mill owners relented, but the union stewards, their wives and any family member who worked in the mills were all blacklisted. None could find work in Blackburn or the surrounding districts.
Mary and Tom found moved their family and found work in Barnoldswick or 'Barlick' where their third child Henry was born.
The decline of the cotton mills in the 1930's meant another move for Tom and Mary this time to a small farm in the Rossendale Valley. Henry married a local girl and had they had a little girl. – That little girl was my mum.
Size 14 x 14 cm. Hand embroidered and hand stitched with DMC stranded embroidery thread on calico.
This piece forms part of a collection of work based on my Lancashire roots.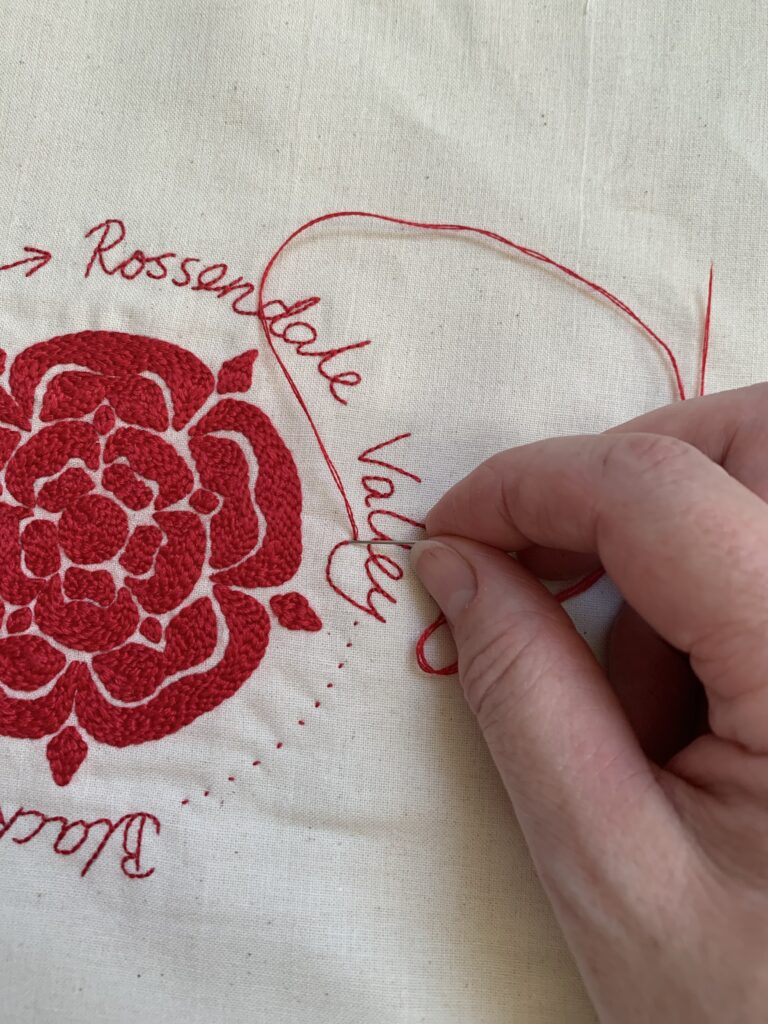 Stitch Your Story
"As part of this year's biennial we are inviting people across the country and hopefully the globe to share their own story of migration and belonging in a crowd-sourced collection of stitched hoops curated by Jamie Chalmers (Mr X Stitch) featuring representations from people's journeys and reflections on their personal heritage.
Using a 6" hoop stitchers are encouraged to share the stories of where they ended up where they are now. Whether this journey be across continents or down the street, in a literal depiction or an abstract impression, we invite you to share in stitch how you got there and what your place and community means to you now.
Stitchers will be given free rein to express themselves within their hoops, but the outcome will be to share their personal story in stitch with the Textile Biennial audience, with the installation hung in a mass installation as part of the biennial programme.
The collection of pieces will be hung using ceiling suspension and fishing wire to create an installation that visitors can walk through and explore to create a moving exhibition (quite literally as the air movement in the space will cause the hoops to sway) that people can discover and come to learn not only about the places that are represented, but also the global community of stitchers that have participated."
Stitch Your Story Exhibition is part of a large programme of events for the British Textile Biennial held across Lancashire in October.