Sound of the Mill #1 & #2 – created as companion pieces for 'Worker Bees' – feature Lancashire Dialect poetry from The Cotton Mill poem, first published in The Bolton Chronicle in 1864.
The growth of cotton manufacturing during the industrial revolution changed the landscape of Northern towns forever. Workers lived in rows of terraced homes within earshot of the Mill they worked in, each long day of work starting with the call of the factory bell. By 1860 there were 2650 cotton mills in Lancashire, employing more than 440 000 people and producing half of the World's cotton.
This extraordinary poem, by an anonymous machine operator, with its onomatopoeic effects and rhythms echoed from heavy industry captures concisely the atmosphere of the working mill. It moves from the sounds of the machines to the behaviour of the human operators.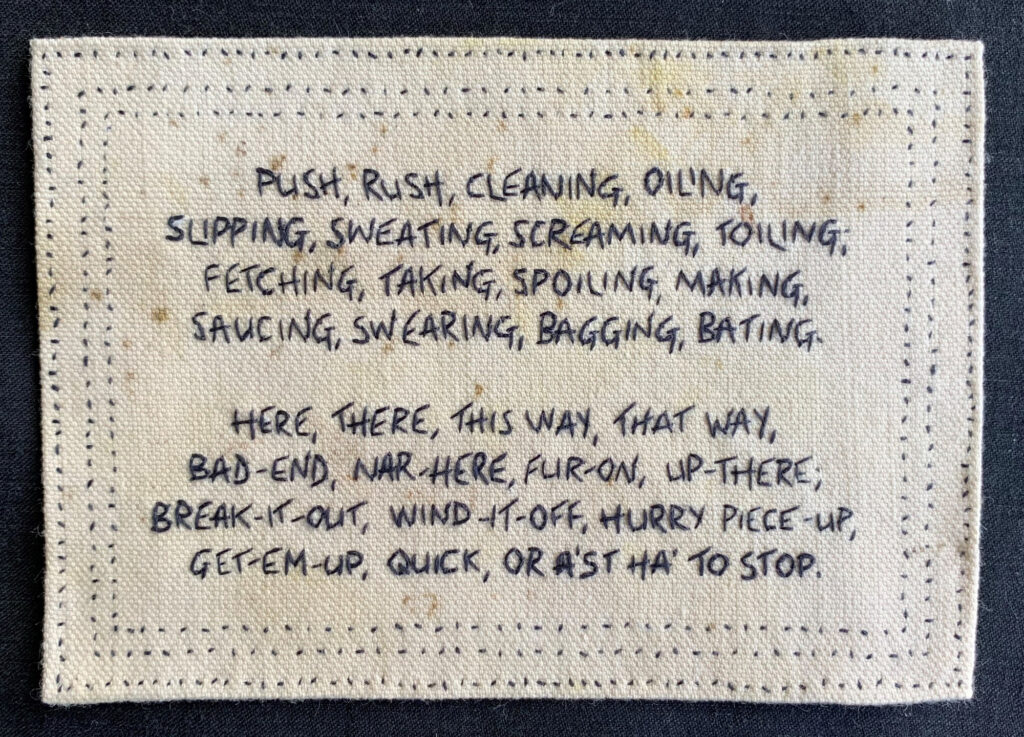 Size: each panel 13 x 9 cm. Hand embroidered and hand stitched using vintage Sylko threads onto cotton cloth which has been eco rust printed.
These pieces were created as a nod to James and Jane Nixon, my ancestors who worked as weavers in the Mills in Blackburn at the time this poem was written.
I was delighted to share them in an exhibition of my hand embroidered work at the Saltaire Arts Trail 2022, Salts Mill, Bradford.
These pieces form part of a body of work on Lancashire dialect poetry from the Lancashire Cotton Famine 1861-1865.