I'm pleased to announce that "Moors of Home " has been selected by Alice, Lenny & Vanessa curators at Dwell Time, for the Special COVID-19 Edition online publication .
This ongoing virtual exhibition collects art, writing and poetry reflecting on mental wellbeing in the COVID-19 pandemic- and is available to view via this link.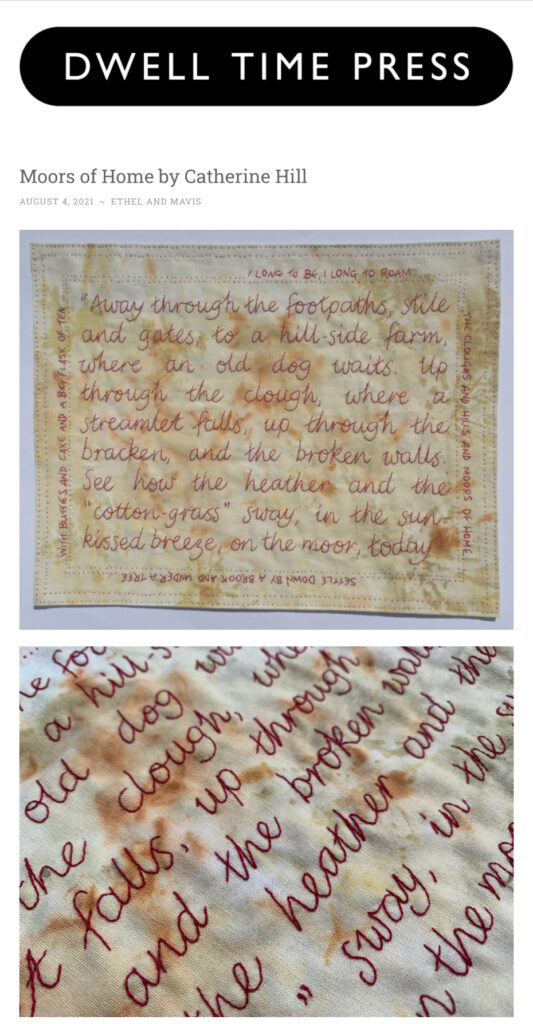 Size 21 x 27 cm. Hand embroidered and hand stitched with vintage Sylko thread onto cotton cloth Eco printed with leaves and petals from my lockdown garden in Summer 2020.
Dwell time: The time a train spends at a scheduled stop without moving. Typically, this time is spent boarding or alighting passengers, but it may also be spent waiting for traffic ahead to clear, or idling time in order to get back on schedule. In these unprecedented and worrying times, our mental well being and creativity is paramount. Whilst we are confined with limited social interaction, we want to offer online space to explore our responses to the pandemic and social isolation. It's OK to not be OK and anyone who has any reflections about this is welcome to send them for inclusion on our website. Dwell Time is an award winning, not-for-profit arts publication reflecting on mental well being.

Produced and curated by Alice Bradshaw, Vanessa Haley & Lenny Szrama in collaboration with Penistone Line Partnership. Founded in 2018.