Yesterday had been a date in my diary for quite some time. It was the launch of Jessie Chorley's new book in her newly decorated shop. Jessie's open invitation had flocks of us turning up all morning. The book launch party was celebrated with cake served on vintage plates and glasses of Prosseco and Elder-flower fizz.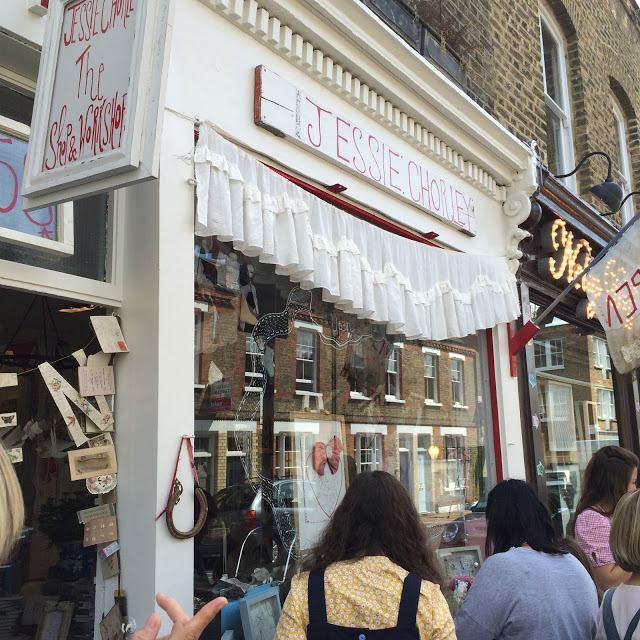 It was so lovely to meet the ladies from Hope and Elvis again, and to bump into my Facebook and Instagram friends – to finally put a face to the name. I am so lucky to have friends as barmy about textiles and I am.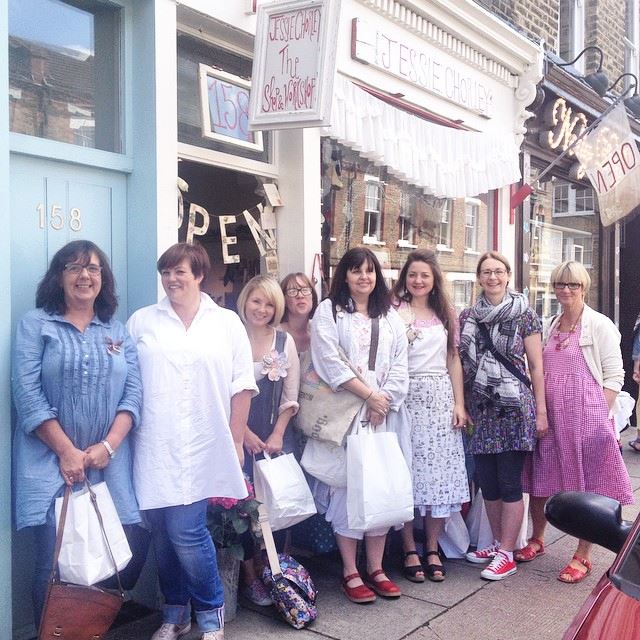 Her shop has changed dramatically since my last visit a few years ago.  She has redecorated the interior with a coat of white paint which sets off her work beautifully. The shelving is made from scaffolding boards and all her goodies for sale are displayed in pre-loved china and vintage furniture.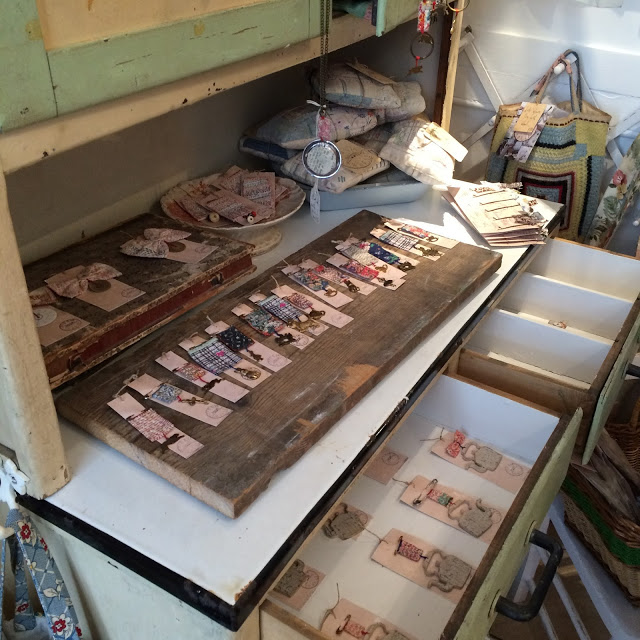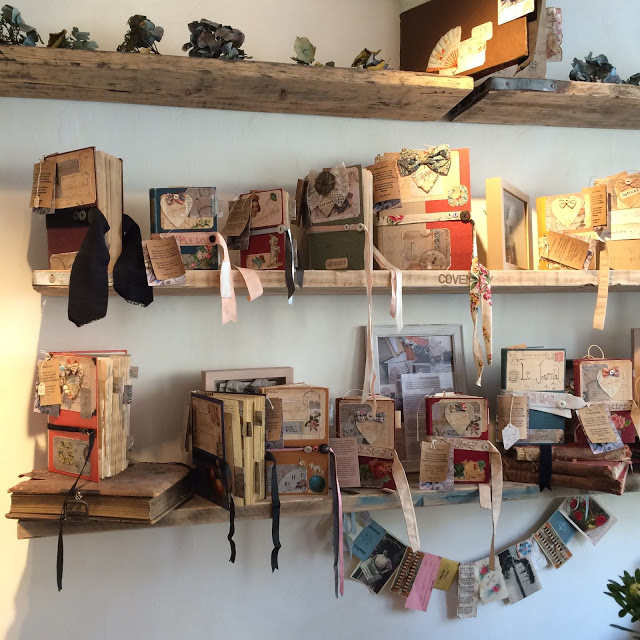 The shop's exterior decoration always makes me smile. Jessie puts out her hand decorated textile 'flags' and decorations each day, regardless of the weather. The shops's window dressing is constantly changing. This weekend, there was a celebration theme – 'Celebrating 10 years in business' –  even the window pane had been decorated.  On the pavement trestle tables were full to bursting with cake, books and flowers, and there was a bench for visitors to rest or to sit and sew.  The whole shop had a wonderful warm buzz about it.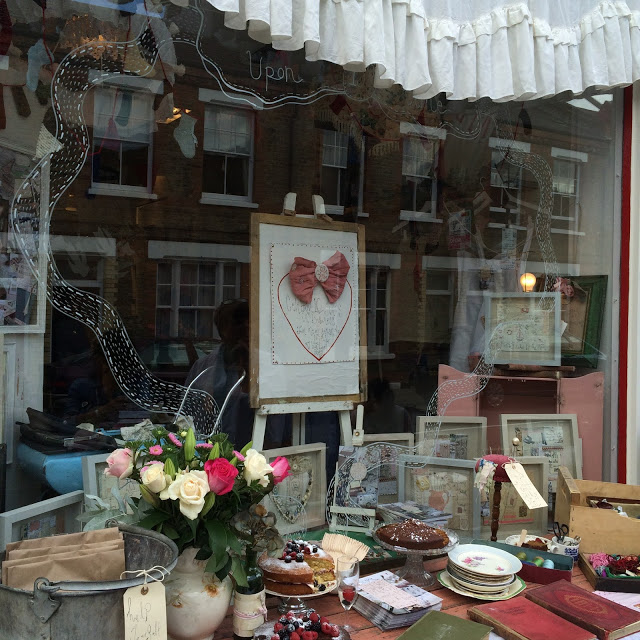 My visit to the shop was the first port of call as part of a day out in London with my DH. He popped into the shop and saw my eyes light up as I drooled over one of Jessie's framed pieces of work – he bought it for me as a gift for our Silver Wedding Anniversary. I'm a lucky girl. There are very few things in life  that I have a real weakness for (apart from Pistachio ice-cream and nougat) . I am not really a handbag, shoe or jewelry kind of girl – textiles  are my weakness and this piece I adore. Thank you my DH.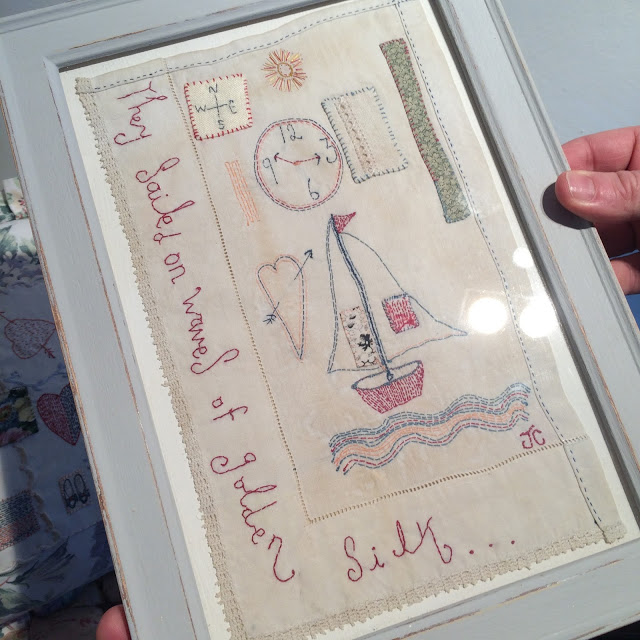 Jessie Chorley's  creativity and enthusiasm is so contagious. I went home with my head buzzing with even more ideas and I just had to sew!  Thank you Jessie for inviting me and for the very generous goody bag.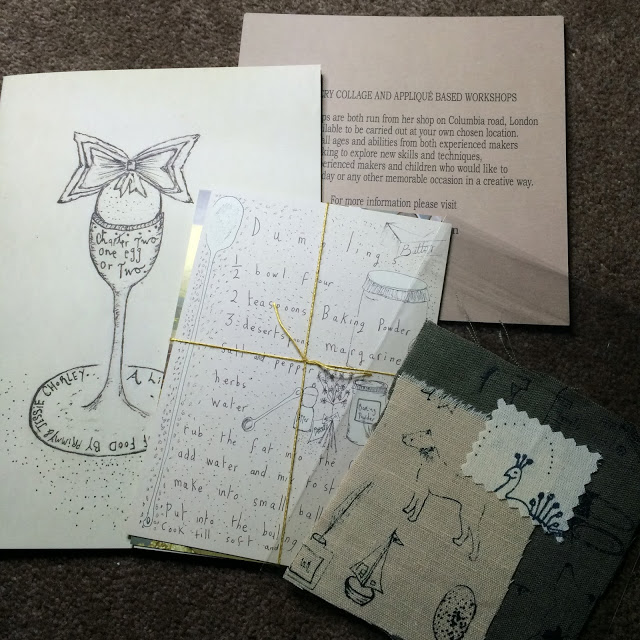 Jessie Chorley's shop is at 158a Columbia Road, London.