My latest hand embroidered artwork has been stitched in memory of the 'Accrington Pals', one of the Pals Battalions that took part in the first day of the Battle of the Somme on 1st July 1916.
After the outbreak of the Great War in 1914 Lord Kitchener sanctioned the raising of Pals battalions. One such battalion was recruited around Accrington, Lancashire where neighbours, family, friends, and workmates enlisted to fight alongside one another. Within 10 days 36 officers and 1,076 men had enlisted – the smallest town in Britain to raise a complete battalion. Their formal name was the 11th (Service) Battalion (Accrington) East Lancashire Regiment, but they became known to everyone as the 'Accrington Pals'.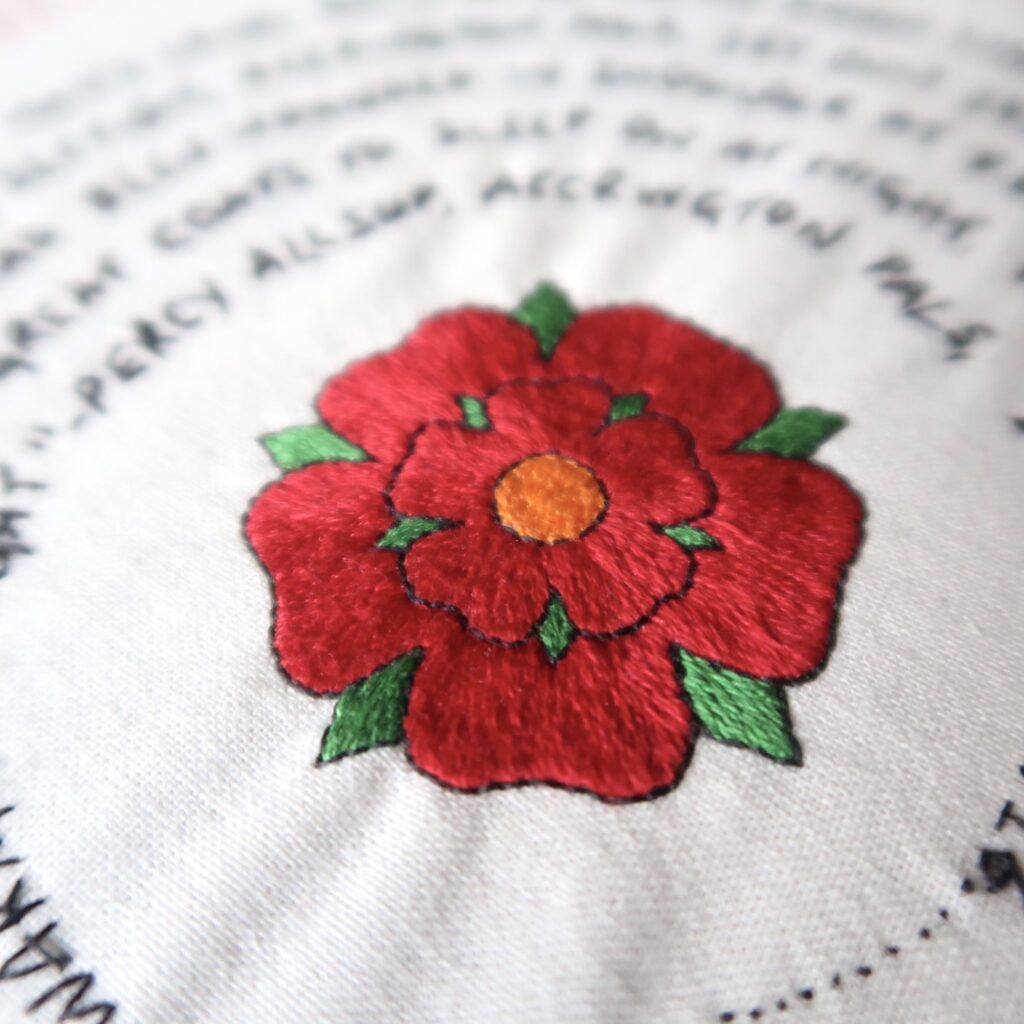 On the 30th June 1916 the 'Accrington Pals' took their positions ready for the 'Big Push'; then at 7:20am on the 1st July 1916 the first day of the Battle of the Somme began.
In the trenches along the 18 mile front-line, whistles sounded out and 100,000 men climbed the parapets and began to walk across No Man's Land.
Amongst them were 720 men from the 'Accrington Pals' who advanced towards the French village of Serre only to be met by a hail of machine gun fire from the German trenches. In less than 20 minutes 235 Pals were dead and 350 were missing or wounded. When the roll was called by RSM Stanworth that evening, less than one hundred men answered their names.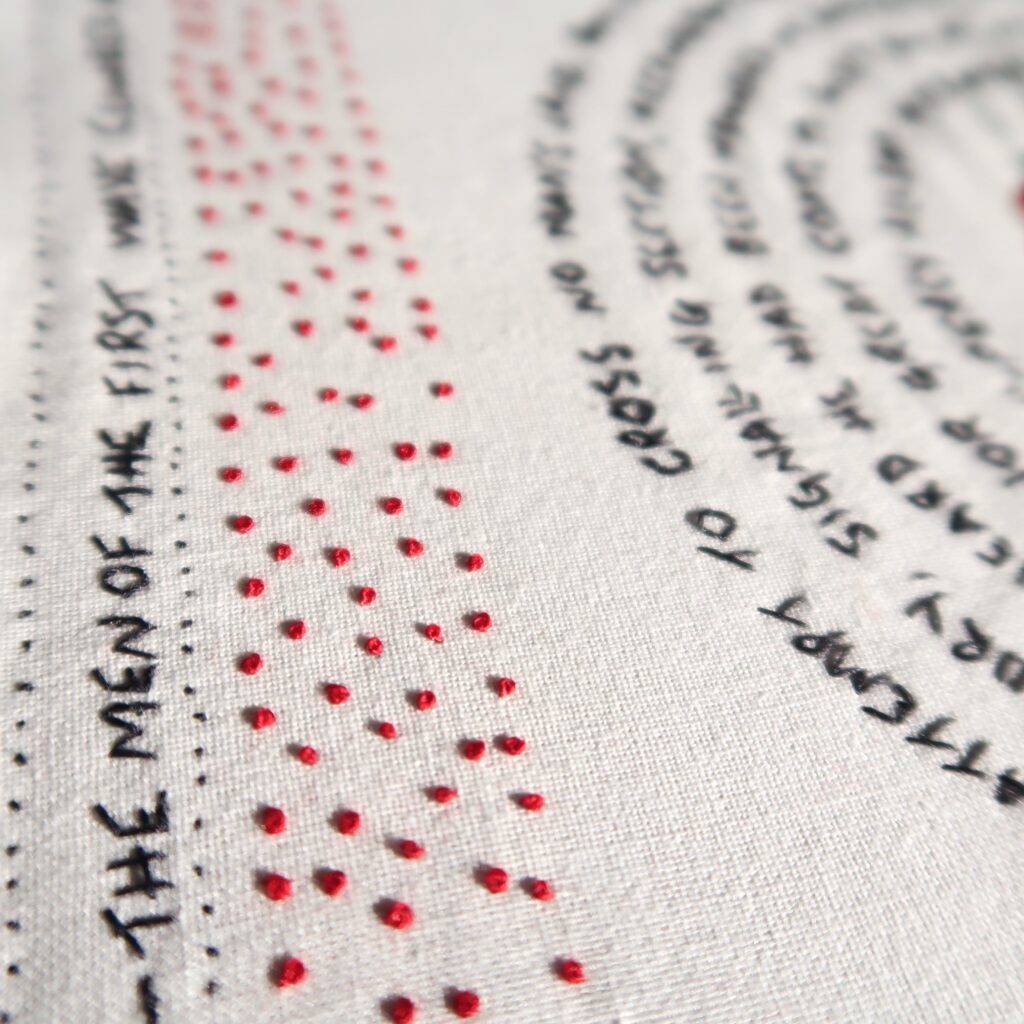 "I remember when the news came through to Accrington that the Pals had been wiped out. I don't think there was a street in Accrington and district that didn't have their blinds drawn, and the bell at Christ Church tolled all the day. " Percy Holmes.
This was quite a difficult and emotional subject to research and I hope the piece reflects just a small part of what happened in France on 1st July 1916.
Size 30 x 30 cm. Featuring some of my hand embroidered text, a hand embroidered Lancashire Rose and 720 red French knots. Vintage thread, DMC embroidery thread and cotton cloth.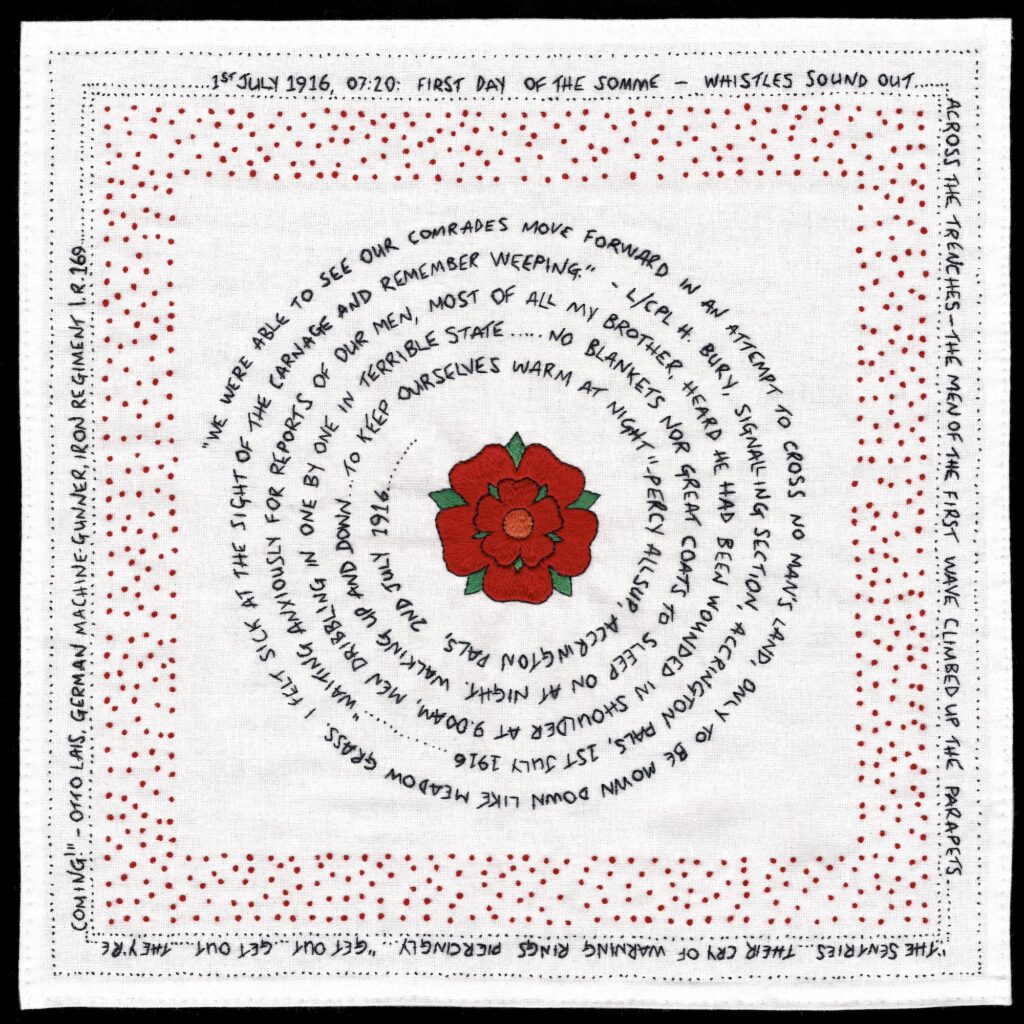 On the first day of the Somme the British Army suffered almost 60,000 casualties.
Credit: Historian Steve Williams; Imperial War Museum & www.pals.org.uk.
Update:
This piece has been accepted into the One Red Thread 'Kindred Spirits' exhibition touring Australia in 2023/24, curated by Elizabeth Dubbelde of Textile Fest, NSW, Australia.
Update:
Accrington Pals is on the first stop of its tour of Australia, at the Sydney Olympic Park.
I'm pleased to announce that I've been awarded 3rd place in the One Red Thread Textile Prize in Australia.
Update:
Accrington Pals is on the next stop of its tour of Australia, at the Melbourne Exhibition & Convention Centre.