Whatever the weather, there's plenty to do in Bath.
Me and my chum had been planning a day out in
Bath
for ages and we'd hoped for some glorious sunshine. On the day we visited it was cold and raining, but that didn't curb our enthusiasm for a fabulous day out. After lunch in
Cafe Lucca
we went rummaging around the streets looking some for vintage shops and found the most wonderful
Vintage to Vogue
, tucked away down an alley, and very close to the
Fashion Museum
.
After another cup of tea (we like our tea), we popped into the Fashion Museum for some more vintage treats. Lucky us! There were two exhibitions on – the History of Fashion in 100
Objects and
Lace in Fashion
. Here's a browse through some of the treats we spotted on our visit.
Gorgeous garments dating from the early 1600's onwards.
All hand embroidered and hand stitched. The workmanship's breathtaking.
Dresses from the Georgia Period in the 1700's.
These Muslin dresses of the 1800's.

A beautiful printed cotton day dress dated around 1860.
An embroidered Dolman – part coat, part cape, dated 1870.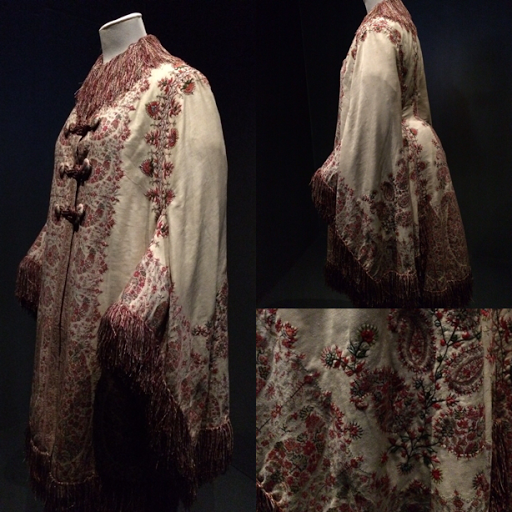 A gorgeous, embroidered silk bodice and skirt dated 1865.
Fabulous vintage 'fashion on a ration' 1940's pieces.
The Lace exhibition was a smaller curated selection of the most exquisite pieces, ranging from historical to contemporary catwalk couture.
Examples of bobbin lace, tatting, crochet and many other forms of lace are on display.
I never knew there was so many forms of it!
And to finish.
I fell in love with this little number from Alexandra McQueen.
If you've enjoyed my edited highlights, then pop along to see the other beauties on offer – vintage embroidered gloves, tiny shoes and there's also some lovely outfits you can dress up in too!