I'm please to announce that I've been invited by Artist Harry Meadley to take part in Free for All at Touchstones Rochdale – in an activity called 'Stitched Memories'. I'll be in Gallery 4 from the 7-10th September collecting your words for a new site specific artwork based on Rochdale's memories from 2022. Pop along and take part!
The final artwork – Summer 2022 – will be a companion piece for Summer '76.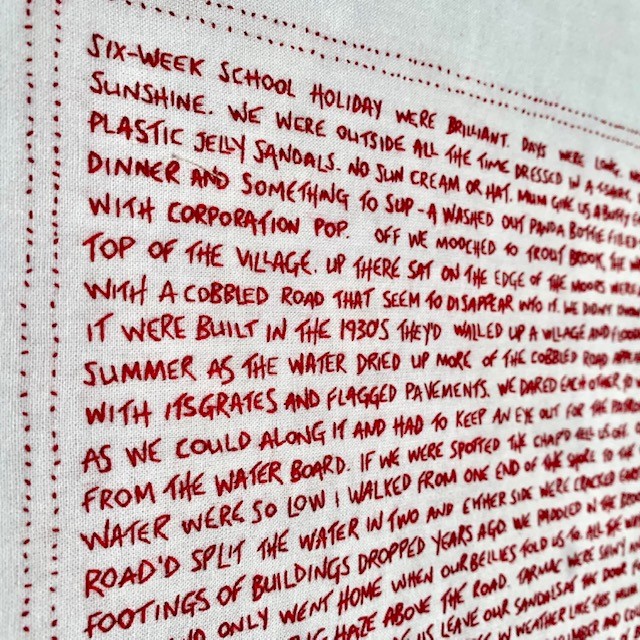 I'll be bringing several of my artworks to share and inspire you.
Stitched Memories – Touchstones Rochdale
What are your memories from Summer 2022?

Multi-award-winning textile artist Catherine Hill will be at Touchstones from the 7th-10th September and is looking for your help for a new artwork she's designing.

Catherine creates hand stitched embroideries all about her own childhood memories growing up in Rochdale during the 1970's; and for her latest artwork, she'll be collecting and stitching Rochdale's memories all about "Summer 2022". Anyone can take part and all responses are anonymous. Pop along, write a phrase or a sentence or two and they could end up being stitched into a new embroidery. Catherine will have lots of art to share and inspire you.

"Summer '76" journals the hottest summer of the 1970's, and nearly fifty years later with more heatwaves, Catherine plans to stitch and document Rochdale's experience of 2022.

Touchstones Rochdale
I look forward to seeing you there.
Update: January 2023
There's some wonderful event coverage including a video about Free for All on Harry Meadley's Website.