In Contact Magazine July 2021 you'll discover an article sharing the story behind the name 'Arnold's Attic'. This digital magazine is the latest publication by the UK Embroiderers' Guild. If fancy a quick peek, I've added a snippet below for you to read.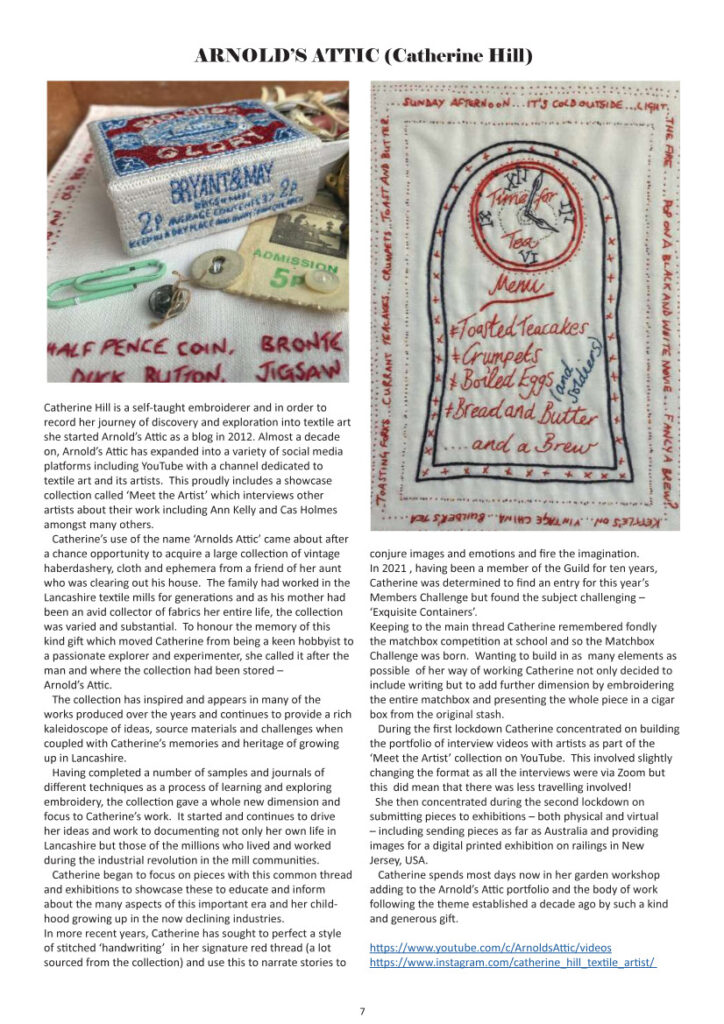 "Catherine's use of the name 'Arnolds Attic' came about after a chance opportunity to acquire a large collection of vintage haberdashery, cloth and ephemera from a friend of her aunt who was clearing out his house. The family had worked in the Lancashire textile mills for generations and as his mother had been an avid collector of fabrics her entire life, the collection was varied and substantial. To honour the memory of this kind gift which moved Catherine from being a keen hobbyist to a passionate explorer and experimenter, she called it after the man and where the collection had been stored – Arnold's Attic. "
"The collection has inspired and appears in many of the works produced over the years and continues to provide a rich kaleidoscope of ideas, source materials and challenges when coupled with Catherine's memories and heritage of growing up in Lancashire. Catherine began to focus on pieces with this common thread and exhibitions to showcase these to educate and inform about the many aspects of this important era and her childhood growing up in the now declining industries. In more recent years, Catherine has sought to perfect a style of 'handwriting' stitching in her signature red thread (a lot sourced from the collection) and use this to narrate stories to conjure images and emotions and fire the imagination."

Contact /magazine July 2021
The Guild contacted me earlier this year asking me to take part in the series 'A-Z of Artists'. It's an honour to share my work alongside some amazing textile artists. The artworks appearing in the article are Matchbox Challenge and Time for Tea, which I created under the name of Catherine Hill Textile Artist.