I'm pleased to announce that my work has been accepted for A Letter in Mind 2021 Exhibition at the Oxo Building, Oxo Tower Wharf, London. All artwork is original and priced at £85. Online previews start at 3rd November 2020 11am. Online sales 4th November at 11am.
Every piece of art is for sale on-line with the proceeds going to the National Brain Appeal. This is the second time any of my art will be for sale.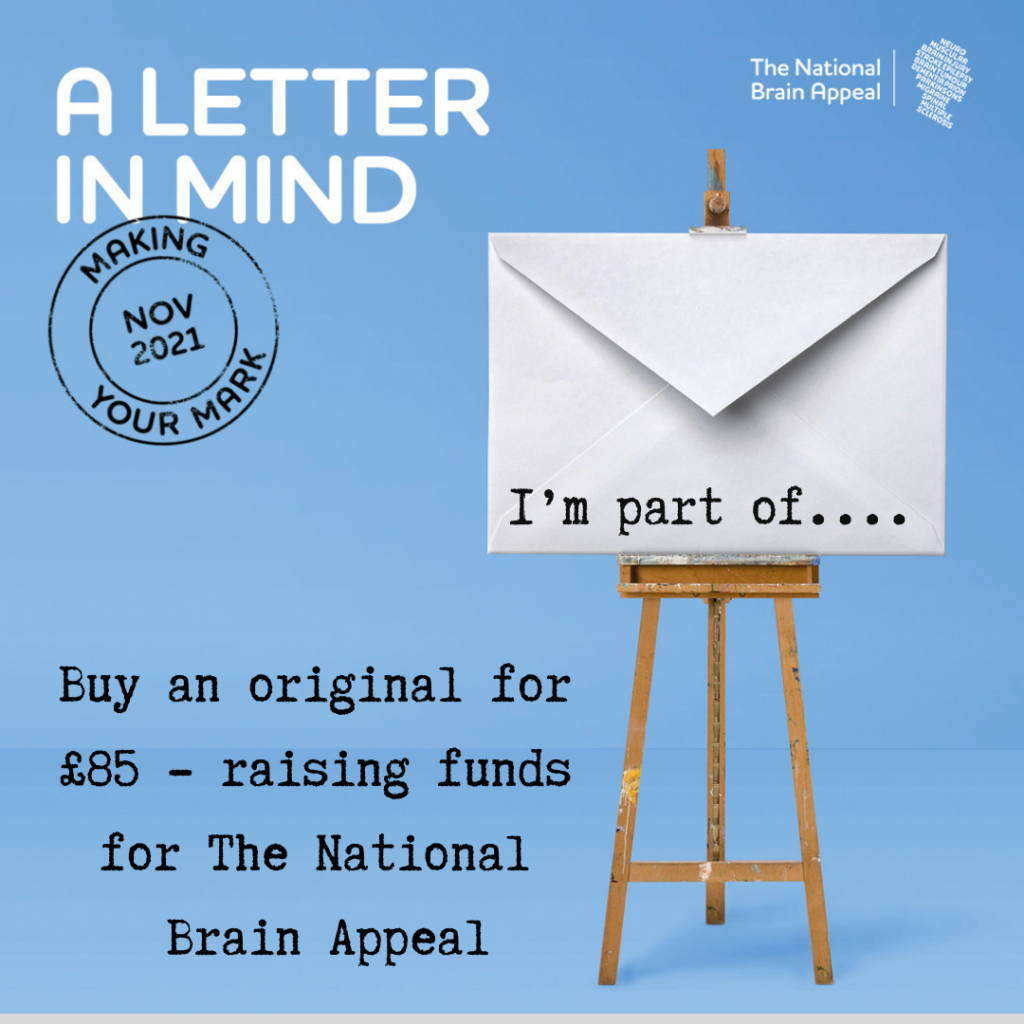 I'll share an image of my piece in a week or so. All the work is sold anonymously – ie. you'll discover the artist once the work is purchased. I think you'll recognise my artwork.
A Letter in Mind:
"After a year in and out of lockdown, many of us have had time to reassess our place in society and in the world. We are looking to tentatively re-establish our relationship with everything around us, as well as adapting to how things – including ourselves − might have changed. How do we make our mark in this different world? Do we want to continue life in the same way as before? Do we feel strongly about another role, cause or way of living? Is it back to the humdrum or can we influence, inspire and 'make our mark' in new and improved ways? People have made marks to connect, tell stories and communicate since time began.
….. Alongside the growth of the digital world, hand-made creations still have a strong and powerful ability to affect us in an increasingly 'hands off' virtual environment. All you need is a simple envelope as your starting point and the rest is up to you. Previous artists include Grayson Perry, Chantal Joffe, Ishbel Myerscough, Morag Myerscough, Mark Dion, Gill Rocca, and Mark Entwisle; designer Zandra Rhodes; illustrators Chris Riddell, Tim Hopgood and Polly Dunbar; architects Laurie Chetwood, Andrew Grant and Amin Taha; comedian and presenter Jo Brand; journalist and presenter Andrew Marr; actors Joanna David, Kevin Eldon, Sophie Thompson and Phyllida Law."
The concept behind the exhibition is that the work should fit into an envelope of your choice. You can browse work from previous exhibitions in the online gallery.