I've just returned home from a relaxing two week stay in Lancashire. Family, lots of tea and plenty of vintage shopping! As you may know,  I'm always on the hunt for some indulgent textile inspiration, so on my way back south I swung by the Yorkshire Sculpture Park to see a collection of work by the fabulous Mister Finch.
In this beautiful exhibition, spread over two floors,  I discovered the woodland characters featured in his new 'The Wish Post' book.
It wasn't long before I was drawn into the fairy-tale world of Mister Finch.
As soon as I entered, I found a jolly long-tailed rat and his two tiny companions greeting me at the foot of the stairs, each covered from head to toe in vintage textiles and embroidery then trimmed in vintage beads.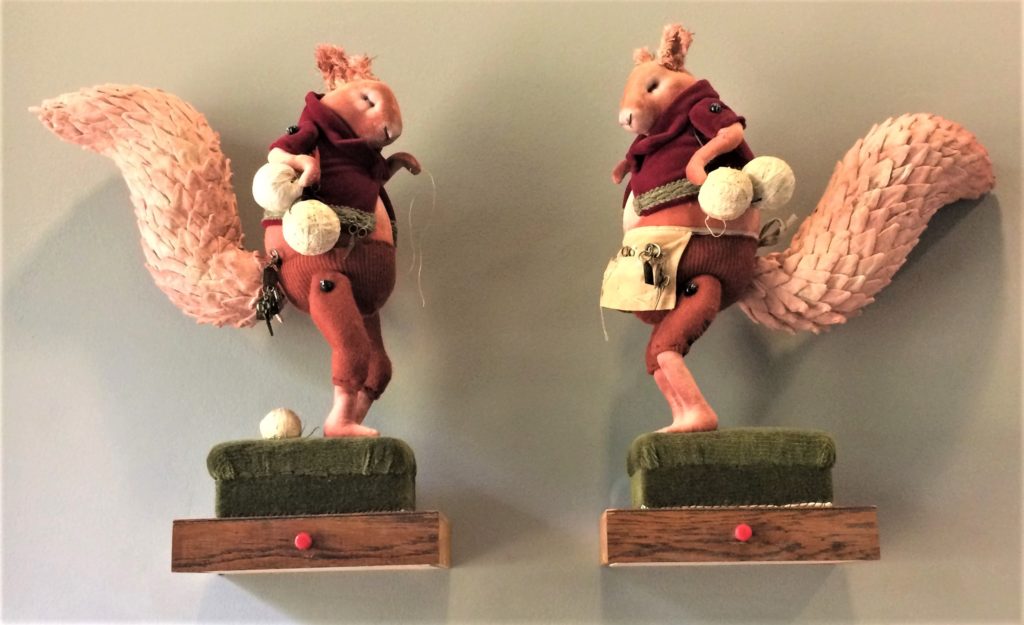 Next, squirrels carrying scissors and balls of thread guided me up the stairs.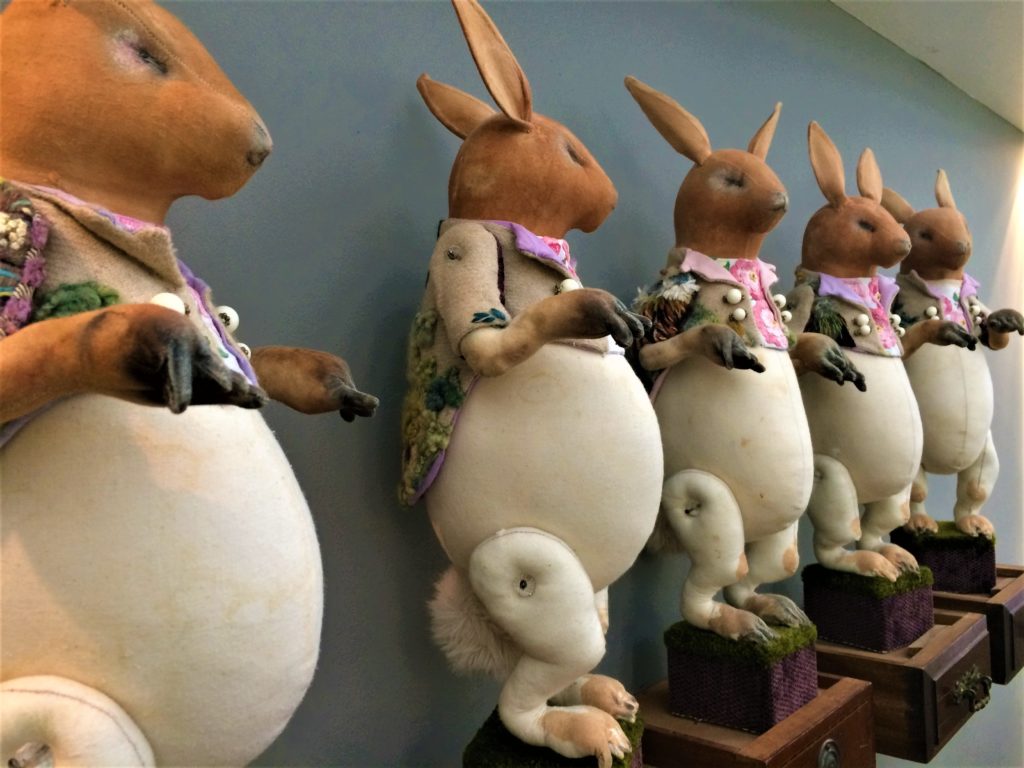 Dapper dressed moles carrying their harvested gems and bob-tailed rabbits wearing tail coats, lined the narrow corridor leading to the main exhibition.
Badgers, Foxes & Hares
It has taken Mister Finch nearly two years to assemble this collection of work. He has lovingly hand-stitched, painted and sculpted each woodland figure giving each animal its unique character.
For just a few moments I tried to image what his workroom was like, filled with vintage embroidered fabrics, paint, vintage furniture, found objects, needles and reels of thread.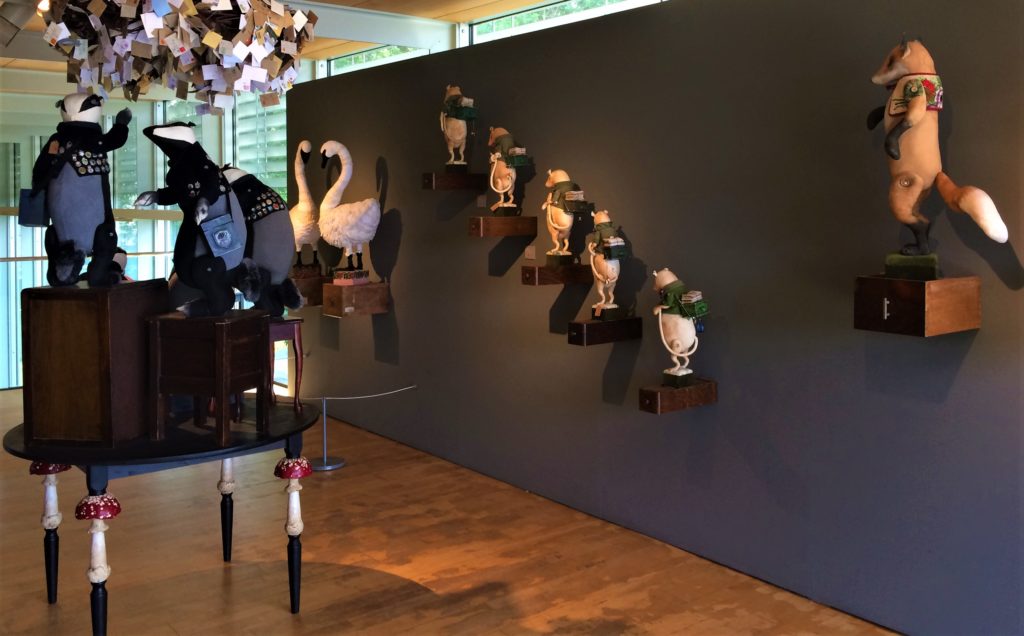 There are so many different creatures!
I found thimble tailed rats carrying bundles of wishes on their backpacks, whilst above the badgers' heads, a wind had swept up a whirl of letters just waiting to be picked.
In time, each and every letter will find its way into the badgers' special wooden bags.
Tinkle and Chime
Softly tinkling bell music played in the background adding to the magical, fairy-tale story.
Hedgehogs 'played' bells whilst I wandered and wondered.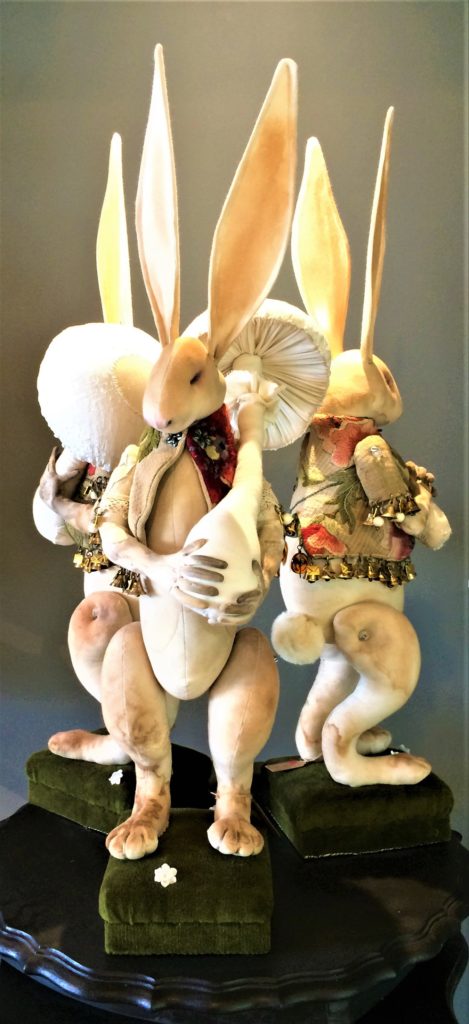 Adding to the melody were three long-eared rabbits standing on green velvet covered boxes, each wearing an exquisitely handmade garment trimmed with tiny bells and envelopes.
These larger than life creatures were gathered together on a large rotating table top which offered me the perfect opportunity to see the intricate detail in each and every large toadstool they were holding.
There was so much to see and I had all afternoon to see it.
Little Poe
A little fellow called Poe the Mouse is the central character in the book.
The little mouse appears along with his friends in their many outfits.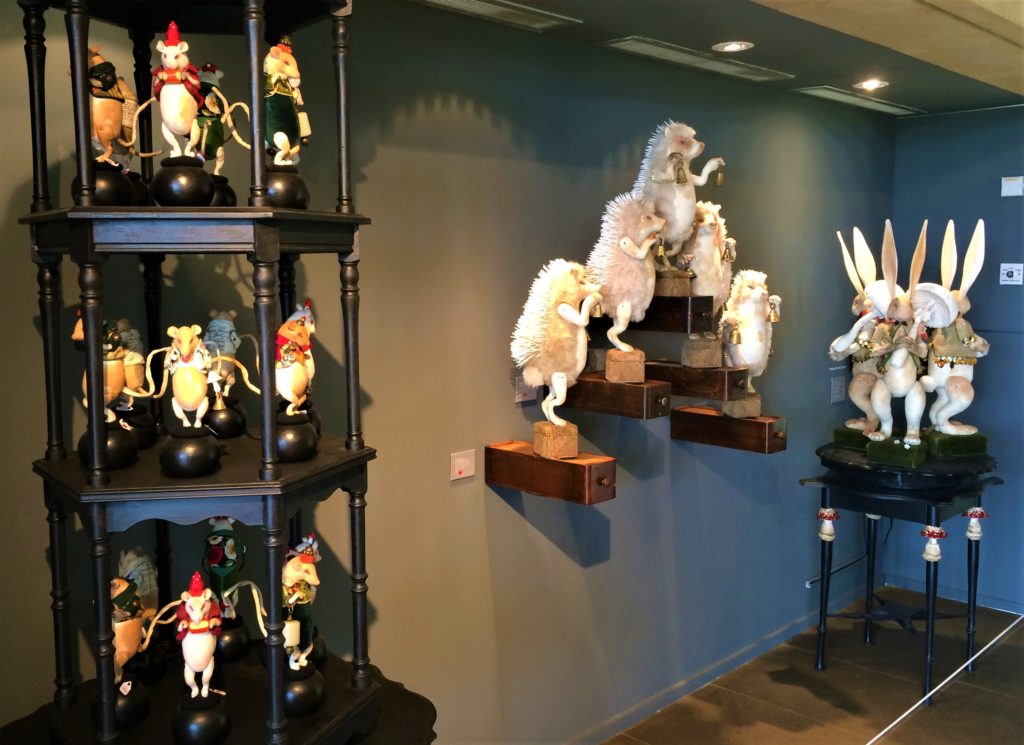 Each one wearing an exquisite outfit full of embroidery and vintage beads.
For one small moment I was whisked away into Mister Finch's studio.  In a cabinet was Little Poe in his varying stages of creation. I love his little jacket with its tiny collar.
Toadstool 'Post Boxes'
Majestic red and white spotted toadstools stand proud and mark the location of the fairy-tale post boxes.
Hand stitched, velvet topped toadstools, rest on beautifully finished wooden plinths which floated above my head as I walked up the stairs.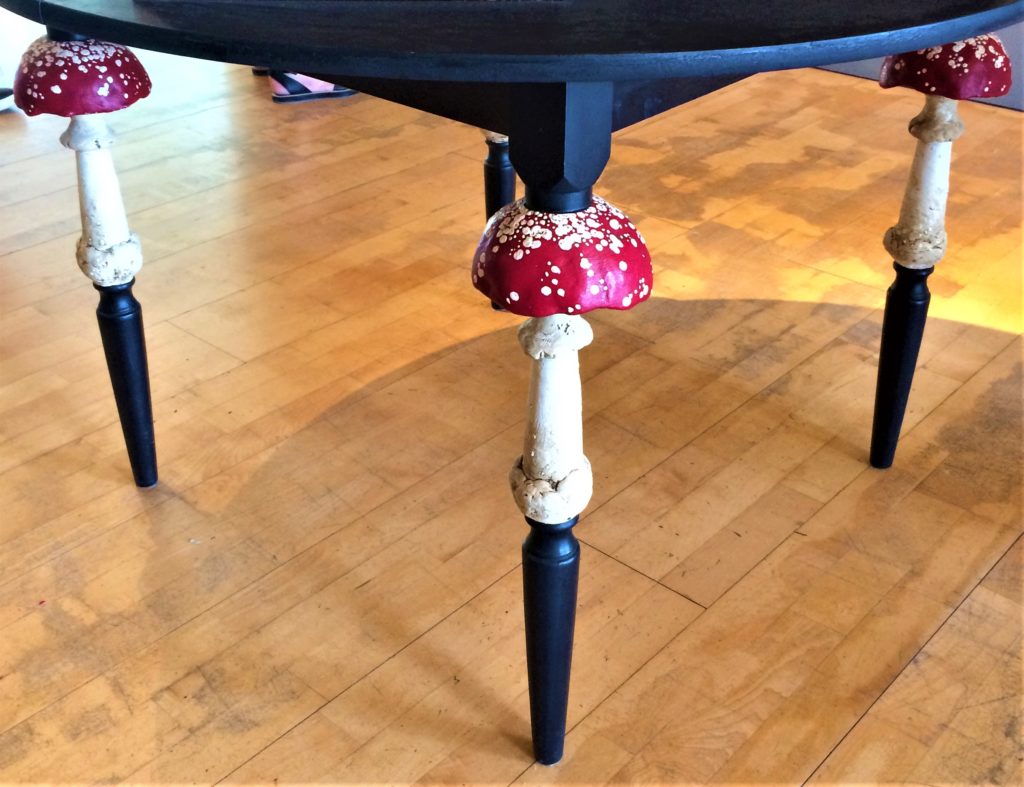 I wandered around, slowly taking in the colour, texture and form of each piece.  Eventually my eyes were drawn to the stands and tables they were displayed upon. I found attention to detail everywhere, even the badgers had a table with legs embellished with clay toadstools.
Tiny toadstools decorate the top of hand painted knitting needles.
Mister Finch and His Cabinet of Curios
An elegant, long glass cabinet was home to an eclectic mix of vintage haberdashery and intriguing creatures.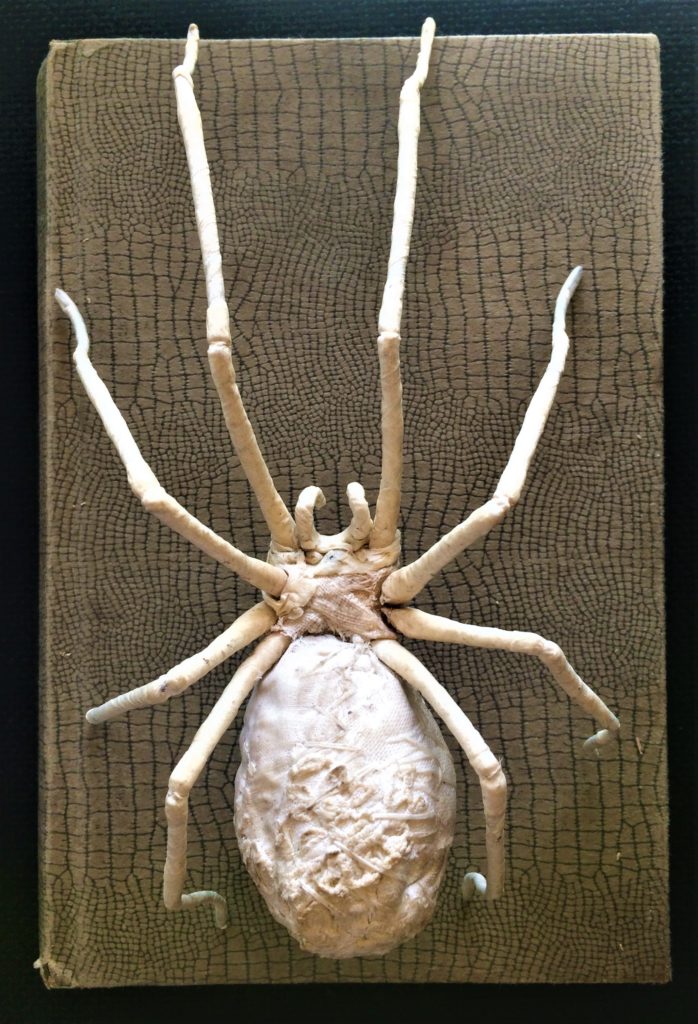 This little fellow is so realistic I was happy it was behind glass.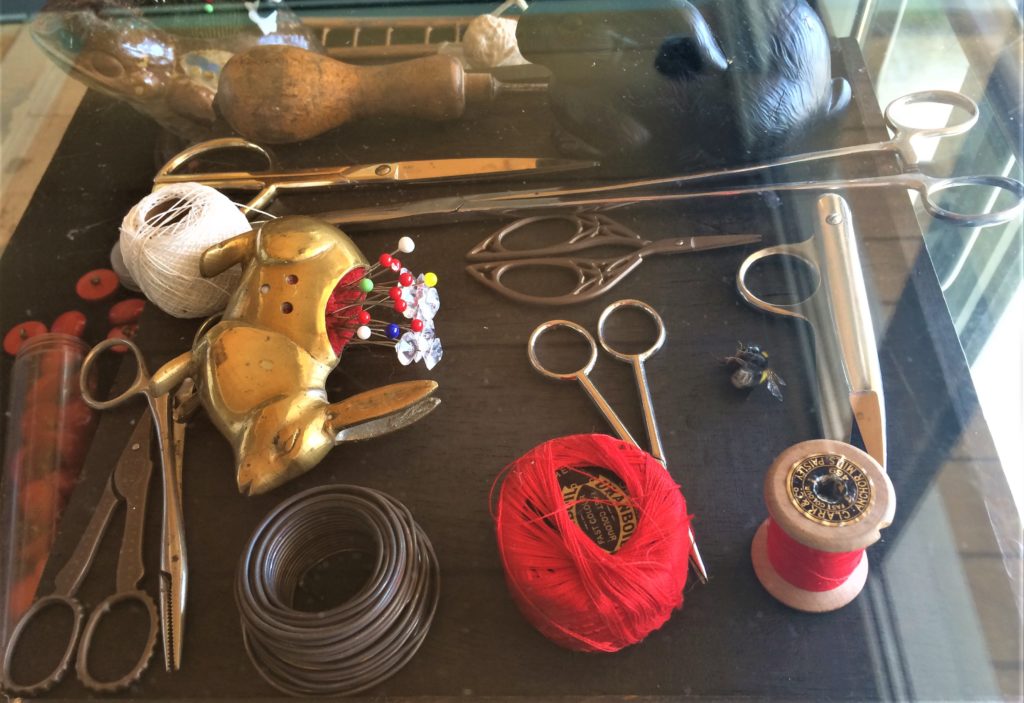 There's also an array of vintage scissors, pincushions and red thread to drool over – a man after my own heart.
Are you a fan too?
The work is so detailed.  I can heartily recommend popping along.
I'll be back for another look before the exhibition finishes on the 23rd September 2018.
If you've loved these pieces, you'll love my post on Mister Finch and his exhibition at Anthropologie in 2014.
Are you a Mister Finch fan too? What are your favourite creatures? Share your thoughts below.