I can't quite believe The Contemporary Craft Fair at Bovey Tracey was only last month.  Whilst I was there, I heard out about another event a little closer to home – the Childwickbury Arts Fair in Hertfordshire.  It sounded like another Art in Action,  so I had to check it out.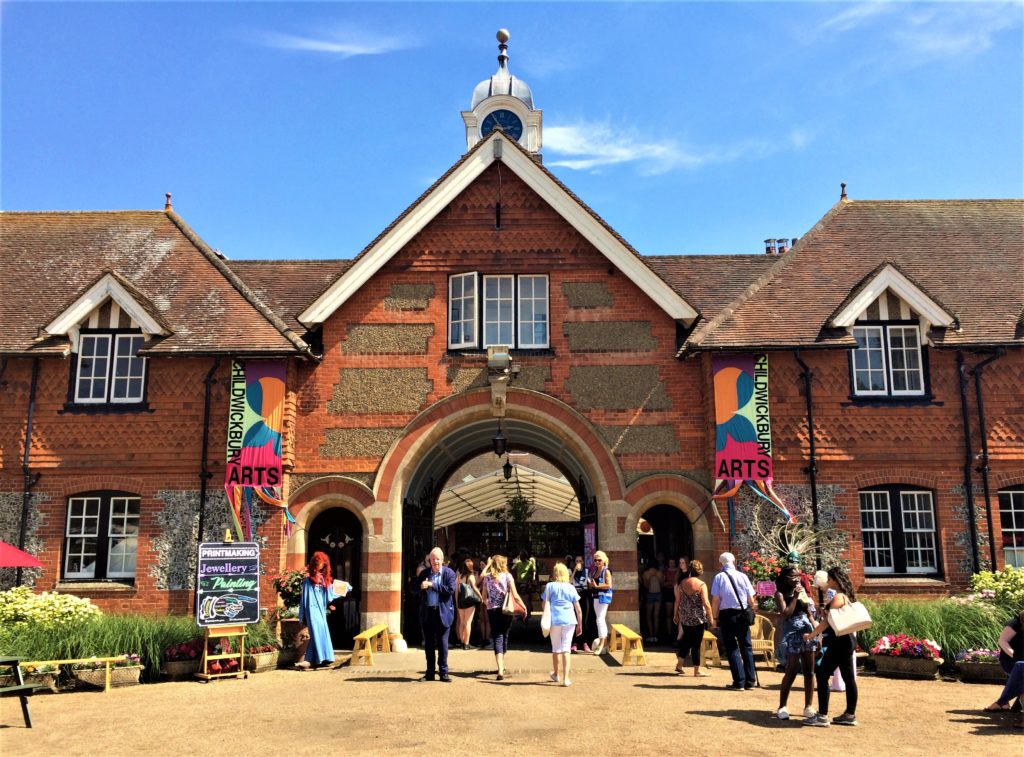 The Art Fair is held in the beautiful grounds of Childwickbury Manor estate which is owned by the artist Christiane Kubrick .
Childwickbury Manor
The stable block, courtyard and surrounding grounds are beautiful to visit and also provide a brilliant venue for the fair. The quality of the art on display is extremely high, furthermore, each artist has a 'work space' on their stand to demonstrate their craft – ceramics, textiles, paint, sculpture, jewellery and printmaking.
Textiles
I mainly visit exhibitions and fairs to see the textiles artists,  to buy their pieces and above all be inspired by work on display. This was my first ever visit to Childwckbury and I wasn't disappointed.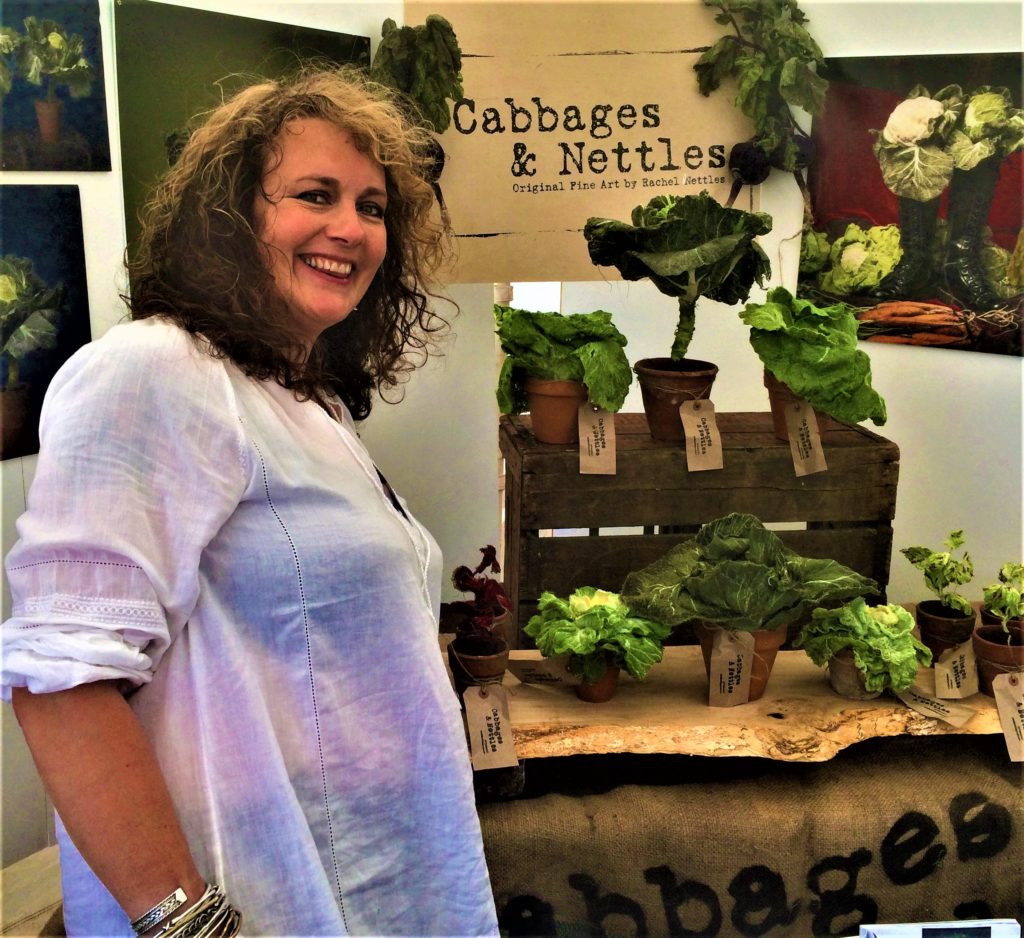 Rachel Nettles from Cabbages and Nettles created these large embroidered vegetables.  Each work of art starts life as a piece of free motion embroidery, stitched on her trusty Bernina, before being sculpted into a 3D shape. Also, visitors to Anthroplogie on the  Kings Road, will remember her stunning exhibition in 2016.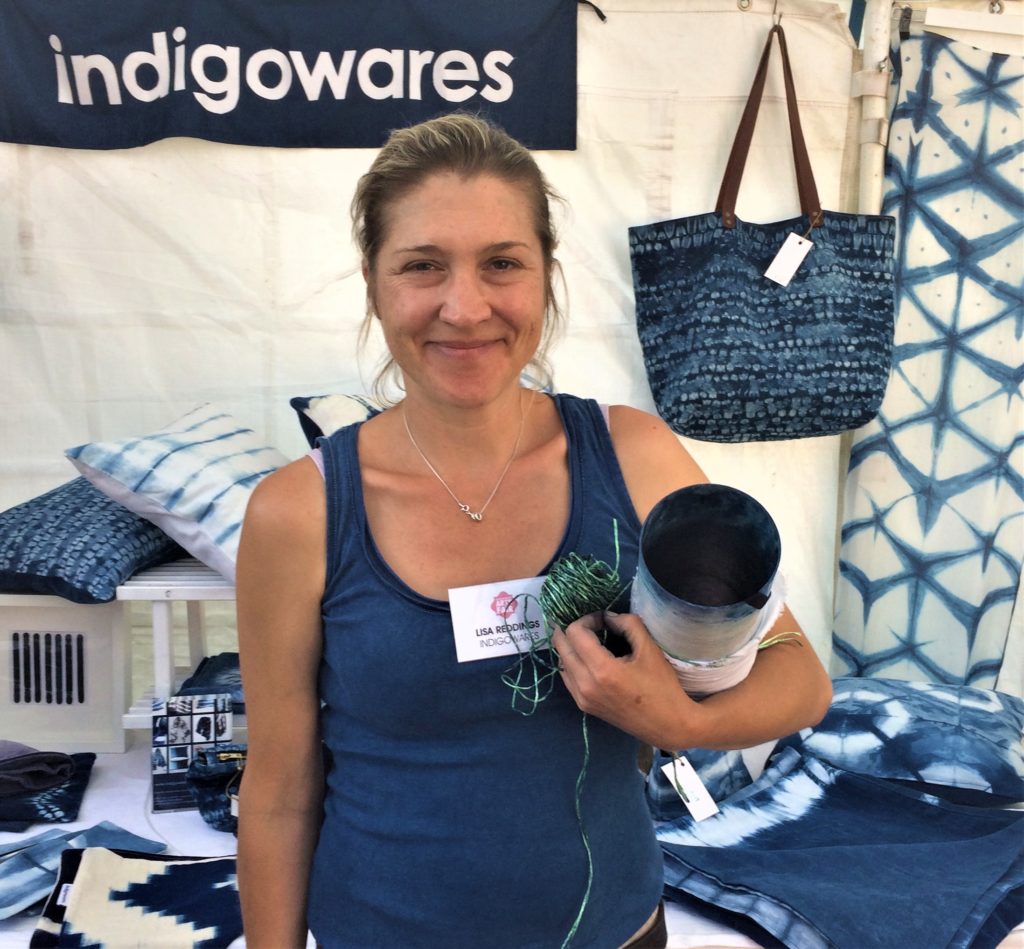 Lisa Reddings from Indigowares had brought along her indigo buckets to play with. She was in and out of the marquee, preparing fabrics with resists, dyeing the cloth before finally opening the bundles. Each fabric started off green in colour before developing into an intense indigo blue.  Throughout the day her washing line was filling up with these beautiful blue textiles.
Dionne Swift was busy creating new free-motion pieces for an exhibition at The Knitting and Stitching Show this year, and was chatting about the wonderful Stitchery Holidays she hosts in Italy.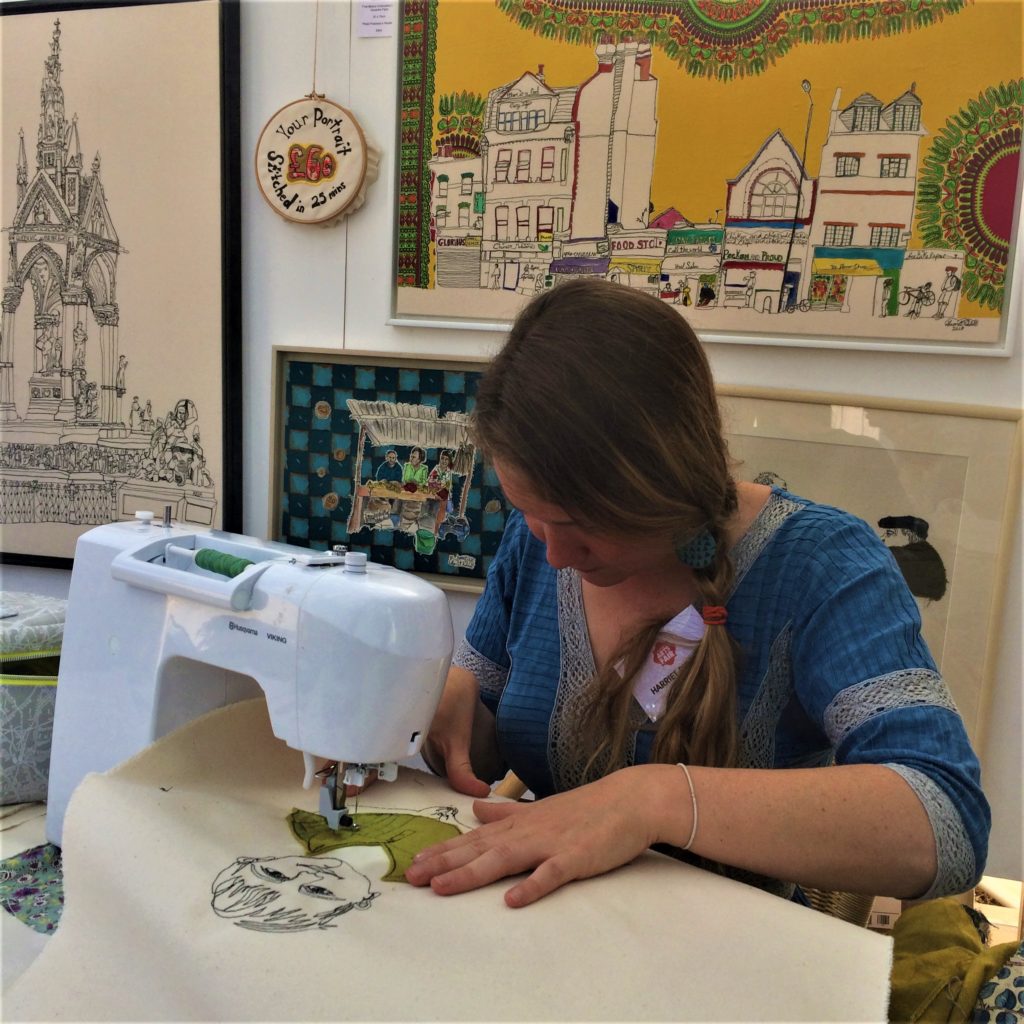 Harriet Riddell was offering a 'Stitched Portrait' service,  sewn whilst you sat for it.  It's fascinating to watch her work.  In this photo she's adding a touch of green thread to a 'checked shirt'.
Mixed-Media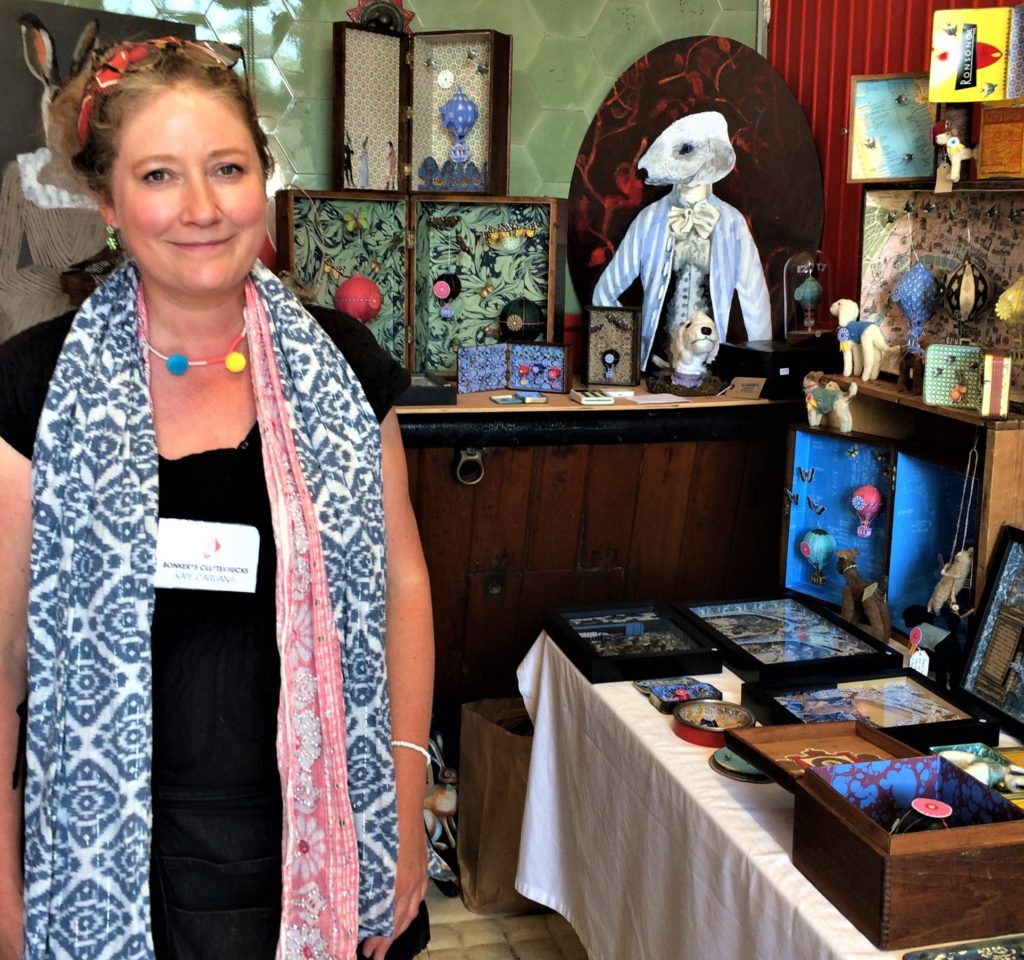 Kate and Peter from Bonkers Clutterbucks showed a stunning collection of hand crafted dioramas and painted panels. Even though I loved every box and tin,  each a tiny work of art, it was the painted panels that really caught my eye.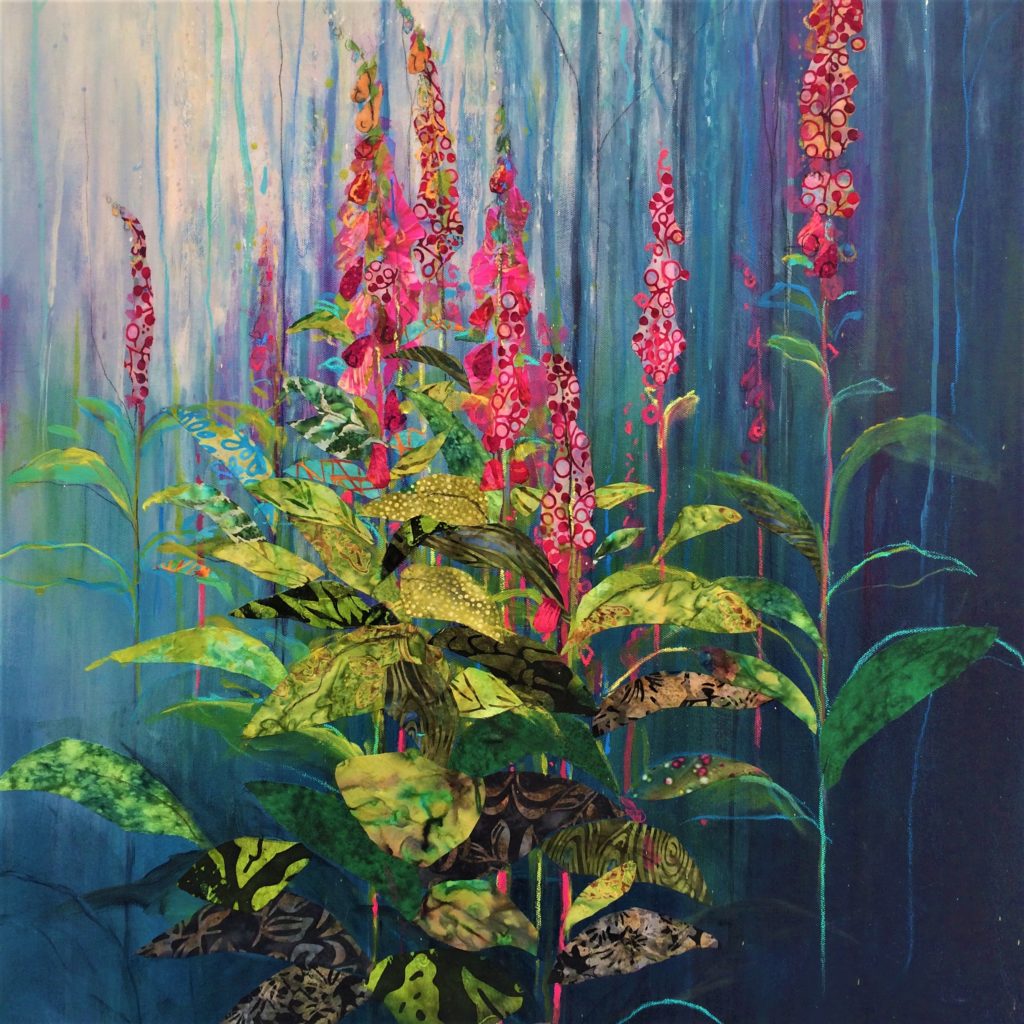 This piece, by Anna Perlin,  is composed from a blend of paint and fabrics.  First of all, the large canvas background is filled with painted detail before the cloth is cut out and then applied.  Extra flurries of vibrant coloured paint are finally added to complete the work.  This collection of work was very striking.
Art
Christiane Kubrick  was adding painted foliage onto this very large canvas in a marquee full of huge pieces of her work. I loved her work table – an organised colourful, messy space – Why are other peoples work areas so fascinating?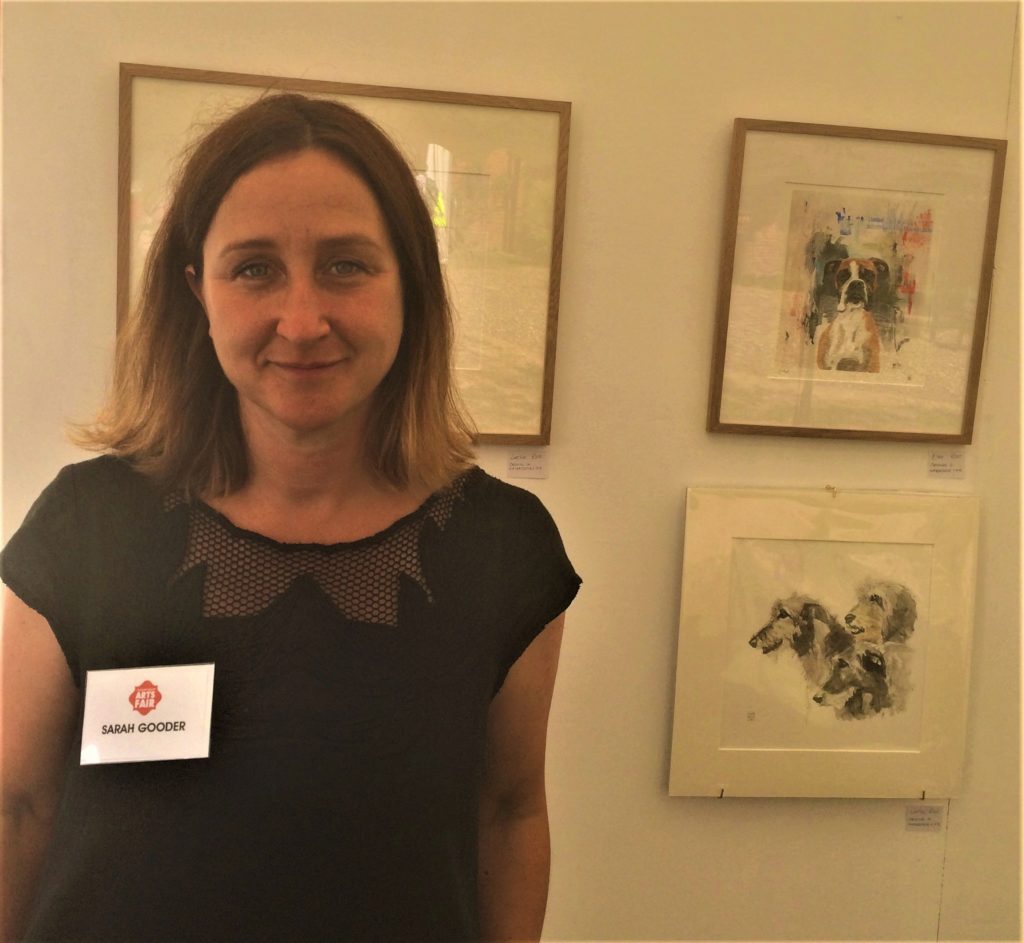 Sarah Gooder  offered a superb collection of hand painted, dog portraits.  Each captured the character of the dog perfectly.
Emily Jolley, a Brighton based artist, exhibited a flock of beautifully painted English birds. She kindly shared a brilliant technique for painting, cutting and then folding her handmade journals.
Sculptural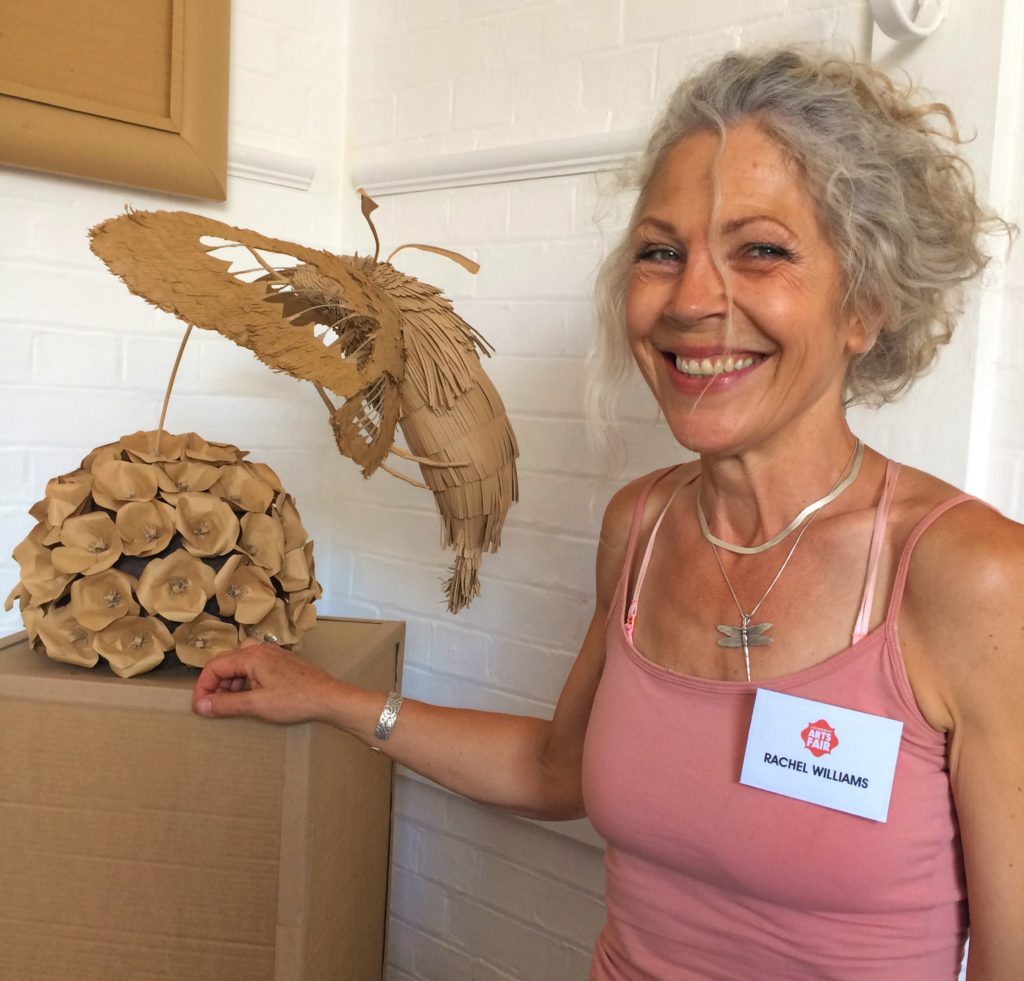 I was intrigued by the sculptural pieces by Rachel Williams.  From a distance, these large moths and toadstools looked as if they were constructed from textiles, yet on closer inspection I discovered their velvety texture had been created using corrugated card. Rachel was busy on her worktable making a small spiralled component – each is made from card, glue and lots of patience, which will subsequently form part of a new creation.
Ceramics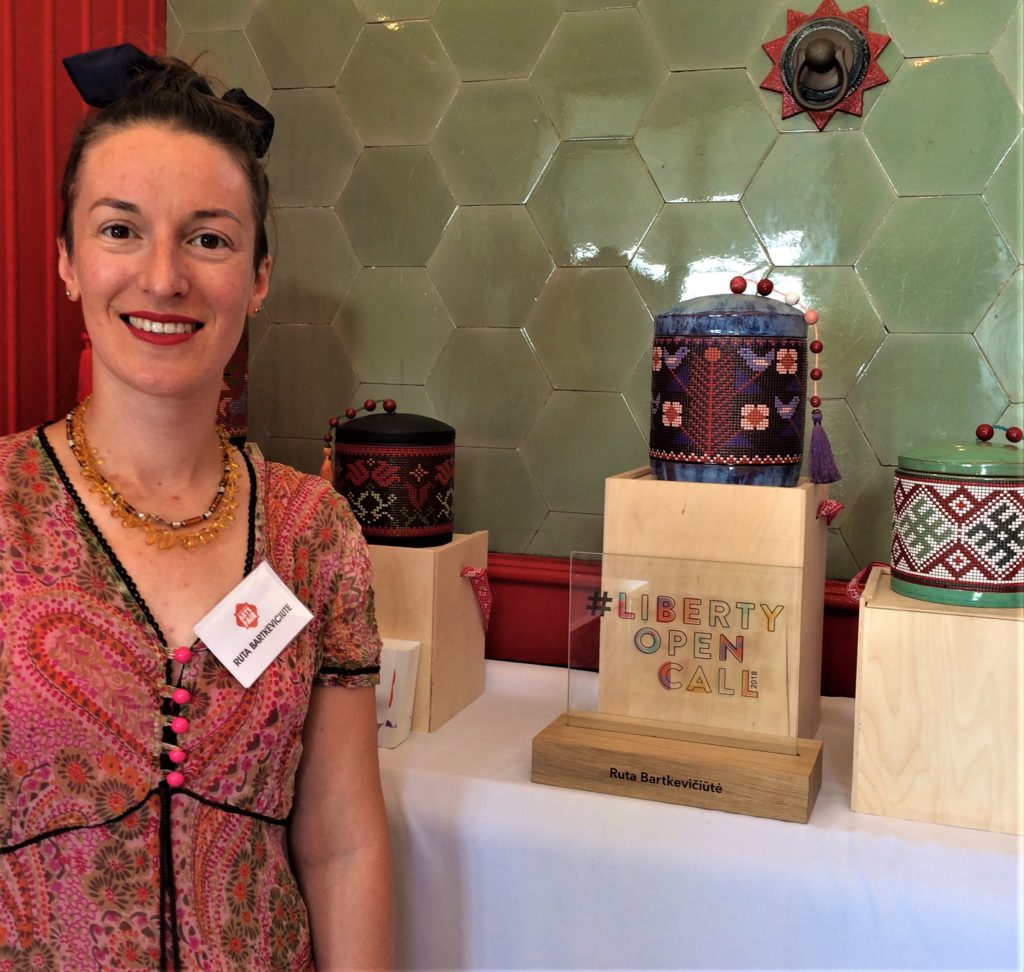 Ruta Bartkeviciute had brought a selection of delicate, textile inspired pieces.  Some of her recent work has been included in the 2018 Liberty Open Call.
Christmas Shopping
My head was buzzing with ideas all the way home. It was just what I needed to spark my creativity again.
Childwickbury events take place twice a year. I'm looking forward to visiting  the  Christmas Market in November.
Which fairs and exhibitions are you visiting this year? I might see you there! Share your thoughts below.