What a wonderful visit to
Brussels
! – something to tick off my bucket list.
I love a good city break. Each place I visit I like to do some of the usual touristy things, then go hunting for something that's a little bit off the beaten track that makes the trip my own.  My Brussels' highlights included chocolate, beer, an 
Orange Tour
 and of course some textiles shopping. Here's a few things I can recommend.
Starting with a little bit of shopping.  I found some scrummy vintage textiles sold by the kilo at
Melting Pot Kilo
 – including baskets and baskets of vintage embroidered linens. Make your selection from all kinds of vintage goodies – clothes, shoes, handbags, coats, and textiles. It's an Aladdin's cave of treasure.
On 
Rue Blaes
 – on the way to the
famous Marolles flea market
– there's a yummy Mid-Century furniture shop and several eclectic, vintage clothing stores. I loved the curated collections of pieces in these shops – lots of inspiration, nice pieces and nice prices. It was such a contrast to the jumbled chaos waiting for me, at the flea market just meters down the road.
Marolles Flea Market at La Place du Jeu Balle
 is on everyday 5am-2pm. I arrived at 8.30am and spent a good 2-3 hours rummaging – there's treasure to be found, but it takes time, patience and lots of haggling. There's plenty of cafes in the square, so you can take a break and rest your legs before returning to the rummaging. Lots more about my visit here on my previous
blog post
.
When I'm not rummaging, I like to look around for inspiration. Around every corner there's a new surprise. These stunning carved biscuit moulds were on display in the fabulous 
Maison Dandoy
.
Fabulous, colourful yarn bombing – the crochet was weathered and rather wonderful.
Every now and then I find a food place that really stands out. On this visit it was 
Mer du Nord
 in Place Saint Catherine with their alfresco tapas style seafood lunch – I had calamari and oysters – all prepared fresh to order.  Give them your name & order and find a table –  they call out your name when the food's ready. The place was very busy and had a real buzz.
I then popped around the corner to 
Gaston
 for a sit in the sunshine with an ice cream
– the deck chair and view were free.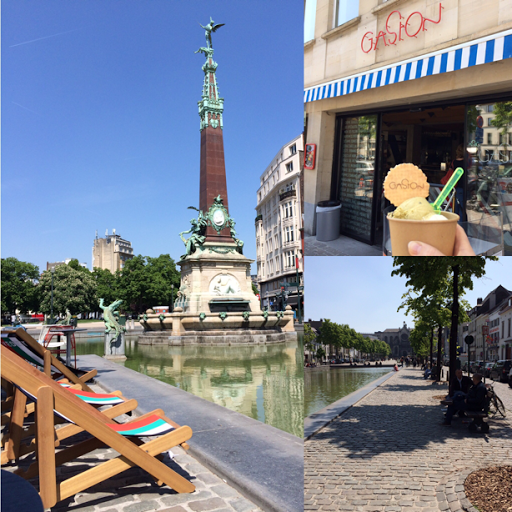 There are plenty of galleries in Brussels, but for me the 
Rene Magritte Museum
 is a must, especially for all the 
Surrealists
 out there. I'd seen postcards of his work before, but to see his life and paintings curated in such a beautiful way was a real treat.
Finally beer – it's everywhere.  I can heartily recommend a visit to the 
Delirium Cafe
, (very close to the Jeanneke Pis). With over 3,000 beers in stock you can definitely find a beer to suit your taste buds. My favourite Trappist beer was the
Westmalle Triple
.
The bartenders here, know everything about everything when it comes to beer. I asked them for two very chocolatey beers – Oh Wow! 
Barista Chocolate Quad
 was like very dark chocolate and Pannepot (mine was a 2010 vintage) was like treacle toffee. Delicious and very easy to drink.
I hope you've enjoyed sharing some of my city highlights.
I can heartily recommend
Brussels,  
it's a very special city and I'm sure I'll be back again soon.